I did not read the reviews before watching The Adjustment Bureau. From the film title, I thought it would be a crime thriller, but it's actually a romantic science fiction thriller. It caught my surprised, and I enjoyed every bit of it.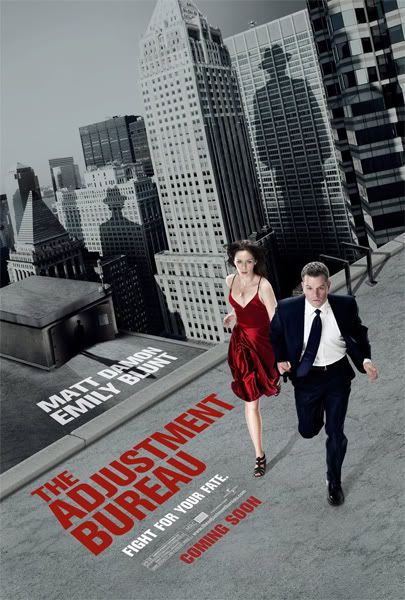 The case officers / angels:
In this scene, Thompson explained to David that he has to choose between love or a successful career. If he decides for love, i.e. to be with Elise, she will end up teaching dance to six year old, instead of being one of the world's greatest choreographers. This decision would also ruin David's chance of running for the presidency.
What would most people end up chosing, can't we all have both?
My favorite quote from Thompson:
"This is what you do, David. This is what you did getting into a bar fight the night you first got elected. What you did to get that embarrassing photo in the New York Post. We give you opportunities other people would kill for and you squander them with impulse."
Though I find the ending anti-climatic (see Harry's quote below), this movie is a must watch! I was expecting to see the Chairman and his caseworkers "reset" (lobotomize) the couple's brains, and they would both end up in a psychiatric hospital. But luckily, this didn't happen.
Harry Mitchell:
"Most people live life on the path we set for them. Too afraid to explore any other. But once in a while people like you come along and knock down all the obstacles we put in your way. People who realize free will is a gift, you'll never know how to use until you fight for it. I think that's The Chairman's real plan. And maybe, one day, we won't write the plan. You will."
Written and directed by: George Nolfi
Stars: Matt Damon, Emily Blunt
Based on: Phillip K. Dick's short story "Adjustment Team"
Credits: movie quotes from
moviequotesandmore.com
, photos from
media.photobucket.com
.